Sidi Larbi Cherkaoui's "Puz/zle"
Soundtrack performed for the choreography "Puz/zle", choreographed by Belgian choreographer Sidi Larbi Cherkaoui. After the premiere in July 2012 in Festival d'Avignon (South France), "Puz/zle" toured around Europe, the Middle East and South America.
An intriguing interaction across stylistic borders. The incredible voices of the Corsican group of singers A Filetta and Lebanese singer Fadia Tomb El-Hage come together in an organical way. Added to this are the chanting, flute-playing and taiko drumming by Japanese musician Kazunari Abe and the electronical music by Polish composer Olga Wojciechowska.
26 songs, 90minutes, Double Album
Disc1
01 Lost Reflection
02 Partenza Astuta
03 Prayer Song
04 Breathing with Colors
05 Relation
06 Erasing Memories
07 Notte Tana
08 Inna Moussa
09 Inside the Holy Whale
10 Treblinka
11 The Echo of Dragon Singing
12 Melting into Unknown
Disc2
01 Yawno Tlito
02 Amano Morio
03 Le Lac
04 Inn al Baraya
05 Ororo Pinne
06 Tookami
07 Maroccu Biancu
08 Lacrymosa
09 Letterella
10 Media
11 U Sipolcru
12 Collected Grief
13 L'anniversariu di Minetta
14 O Successores
2013 RELEASE €20.00
Available on the website of EASTMAN
"Puz/zle"
choreographed by Sidi Larbi Cherkaoui
http://www.east-man.be/en/14/12/Puzzle
music
A FILETTA
http://www.afiletta.com
FADIA TOMB EL-HAGE
http://fadiatombelhage.com/home.php
OLGA WOJCIECHOWSKA
https://www.facebook.com/wojciechowska.olga
KAZUNARI ABE
http://kazunariabe.jp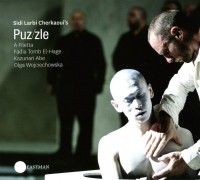 Now Available